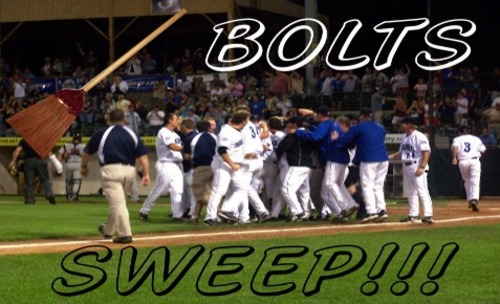 The Windy City ThunderBolts scored a run in the bottom of the eighth inning, lifting them to a 6-5 back and forth win over the Gateway Grizzlies.
Gateway cracked the scoreboard in the top of the first inning as with two outs, Joseph Scaperotta singled home Brandon Peters for a 1-0 Grizzlies lead. The Bolts would tie it as Wilson Matos, who reached on an error, scored on a Robert Perry single to knot the game at 1-1.
The ThunderBolts would take their first lead of the game in the fifth inning as with runners on first and second, Pete Paris lined a single into rightfield, plating Wilson Matos and moving Robert Perry to third. Following a walk to J. T. Restko, Bryan Cook came up and hit a sac fly to left bringing around Perry for a 3-1 Windy City lead.
The lead would last into the seventh when Gateway would score a pair of runs to tie things up at 3-3 on a single by Brandon Peters and a wild pitch from Tim Dennehy. Windy City would battle right back in the bottom of the inning as Gilberto Mejia and Robert Perry led off the frame with back-to-back homers and sent the Bolts up 5-3.
In this see-saw battle, however, that lead lived only into the top of the eighth inning as after a leadoff single from Scaperotta, Jareck West drilled a long homerun over the batter's eye in centerfield deadlocking the contest at 5-5.
Windy City would not be denied as Kraig Binick led off with a single in the eighth inning. He promptly stole second and moved to third on a throwing error from Jon Quigley. Coming up next, Guillermo Martinez lifted a fly ball into center deep enough for Binick to score from third and put the ThunderBolts back up by a run.
Things wouldn't be easy in the ninth as Brandon Peters singled to lead off the frame and moved to third bringing up league homerun leader Charlie Lisk as the go-ahead run. Nick Hall reached back for something extra and was able to strike out Lisk to end the ballgame.
Hall's effort recorded him his fourth save of the year and preserved the win for Brandon Garner (3-4) who recorded the final two outs in the eighth in order. Matt Jernstad started and was outstanding for Windy City going 6+ innings allowing two runs on five hits, not walking a batter and striking out a career high 11. Joel Boeschen (1-5) took the loss for Gateway.
Windy City now heads out for a three game battle at River City. Dustin Pease (8-4, 3.65) will start the Friday game for the ThunderBolts against Pablo Lopez (1-2, 6.40) for the Rascals. Game time is set for 7:05 p.m. with the pregame show on sportsjuice.com at 6:45. For information or tickets, call 708-489-BALL or visit the team's website at
www.wcthunderbolts.com