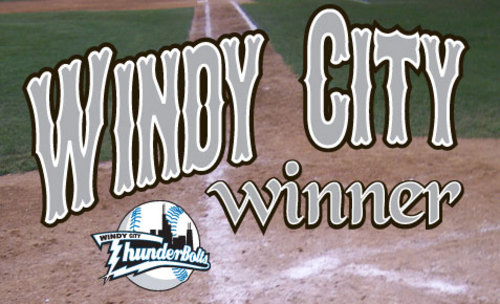 Bryan Cook went 4-for-4 with a homerun and five RBI and Ross Stout struck out 10 Gateway batters over seven innings as the Windy City ThunderBolts routed the Gateway Grizzlies 12-1.
Gateway starter Nathan Melek had been hit hard five days previously by Windy City to the tune of nine runs on 15 hits. His luck wasn't much different against the Bolts this time around as they pounded the Gateway starter in the first, plating four runs on five hits including a two-run double from Bryan Cook and an RBI two-bagger from newcomer Kraig Binick. Windy City scored two more in the second inning on an RBI triple from Robert Perry and a run scoring single from Cook to make it 6-0.
After Gateway got a run in the third inning on a base hit by Brandon Peters scoring Brandon Johnson, the Bolts came right back as with a run already in, Cook delivered his third RBI hit of the game, a single to right, scoring Pete Paris to put Windy City up 8-1.
A pitching change didn't help the Grizzlies much as the ThunderBolts brought home three more in the fifth inning against Scott Kelly keyed by a bases loaded single by Paris to make it 11-1. Windy City would add the last tally of the game in the eighth on a Bryan Cook homer to create the 12-1 final.
Ross Stout (9-2) picked up the win for the Bolts scattering five hits over seven innings, whiffing 10 in the contest; his third 10K game of the season. The 10 strikeouts game Stout 96 on the year, taking the Frontier League lead in the process. Nathan Melek (4-7) was dealt the loss for Gateway.
A couple of milestones were reached in the game as with the win, Stout won his 20th game in a ThunderBolts uniform becoming the first ever player for Windy City to reach that prestigious mark. With his second inning stolen base, Gilberto Mejia collected his 41st steal of the year and the 200th of his professional career.
The series continues on Wednesday with Ricky Meinhold (0-0, 6.75) on the mound for Windy City against Gateway's Mark Brackman (4-7, 4.87). The first 1,000 fans into the ballpark will receive Boomer Banks courtesy of First Midwest Bank. It is also Salute to the Negro Leagues night as the teams will don vintage Negro League uniforms representing a variety of Negro League teams. For information or tickets, call 708-489-BALL or visit the team's website at
www.wcthunderbolts.com