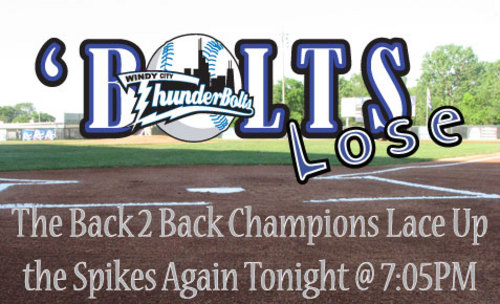 FOR IMMEDIATE RELEASE
AUGUST 2, 2009
CONTACT: CHAD COOPER
Bolts drop a pair
The Evansville Otters used defensive miscues by the Windy City ThunderBolts to sweep a doubleheader from the Bolts by finals of 8-4 and 5-3.
In game one, the ThunderBolts scored a run in the top of the first inning on a J. T. Restko sacrifice fly, the Otters came back to score eight runs in the bottom of the frame aided by three walks, a hit batsman and three errors as Evansville took a 8-1 lead. After that the skies opened up and halted play, forcing the completion of the game on Sunday.
After the restart, Windy City would score a run in the sixth inning to make it 8-2. Two more would come in during the ninth on a throwing error by Javier Brown and an RBI single from Robert Perry to create the final score of 8-4.
The biggest story of the continuation was the ThunderBolts bullpen who did not allow a base hit through their first five innings of work in the resumption of and over the 6.1 innings over the completion of the game surrendered just one hit, no runs and struck out 10.
Nick Utley (4-3) picked up the win for Evansville in game one, pitching five innings on one run ball over the course of the two nights that game one took to complete. Brandon Garner (2-4) took the loss for Windy City.
In game two, Evansville cracked the first tallies of the game with a trio of unearned runs, two of which came in on a Dustin Pease throwing error as the Otters took a 3-0 lead. The Bolts picked up their first run of the game in the fourth inning as after a single by Guillermo Martinez and a double by J. T. Restko, Otters' starter Dustin Renfrow uncorked a wild pitch to bring home Martinez and cut the lead to 3-1.
Evansville would plate two more as the Windy City defense struggled again in the sixth. With Cameron Satterwhite on second after a single and a throwing error, Jeremy Strack came to the plate and singled through the left side. The ball was misplayed in leftfield and rolled all the way to the fence allowing Satterwhite to score and Strack to round the bases, making it 5-1 Evansville. The Bolts would score a pair of runs in the seventh inning on a double by Pete Paris and a sac fly by Vinnie Scarduzio to create the 5-3 final.
Dustin Renfrow (4-5) got the win for Evansville going six innings in the game. Dustin Pease (8-4) pitched his third consecutive complete game, but took the loss, despite not allowing an earned run.
Game three of the Evansville series will see Andrew Werner (2-0, 3.27) on the mound for the Otters. The ThunderBolts starter has not been announced. The Bolts return home for a three game set against gateway on Tuesday with the first 1,000 fans receiving a Back 2 Back Champions foam finger courtesy of A. J. Smith Federal Savings Bank. It is also Church Night at Standard Bank Stadium. For information or tickets, call 708-489-BALL or visit the team's website at
www.wcthunderbolts.com