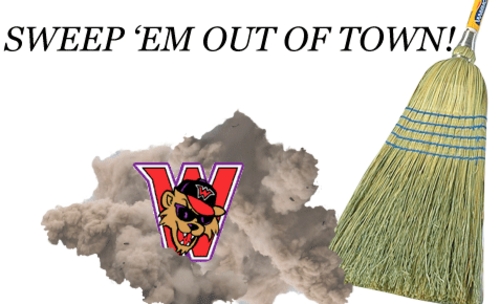 CRESTWOOD -- The Windy City ThunderBolts (37-31) earned a sweep of the Washington Wild Things (35-33) with an 8-5 win on Monday afternoon in front of 1,493 fans at Standard Bank Stadium.
With the game tied in the bottom of the eighth inning, Windy City scored three times to break the tie. Justin Tellam came through again for Windy City with the tie-breaking hit to that scored Phil Hawke. Josh Horn backed that up with a double down the right field line to bring home two more runners.
Wild Things starter Mike Schillinger (8-4) took the loss, going 7.1 innings and giving up seven runs on nine hits while striking out three.
Matt Petty got the final three outs in the ninth inning to earn his 11th save of the year. However, it didn't come easy as he allowed the first two runners to reach base before retiring the next three.
Washington jumped out to a 3-0 lead in the first inning after Jacob Dempsey hit a three-run homer in the first inning with nobody out. The Wild Things would load the bases with nobody out before Windy City starter Stephen Flake got out of the jam. It was a theme that Flake would keep throughout the game as he allowed five hits and seven walks, but gave up just the three runs.
Windy City tied the game in their half of the fourth after Phil Hawke hit his fifteenth home run of the season, a drive over the wall just to the right of centerfield. It was Hawke's seventh home run in eleven games. Horn later came through with an RBI-single to give Windy City the lead 4-3 in the inning.
Anthony Rebyanski (2-2) earned the win, working a scoreless eighth inning and giving up just one walk while striking out one.
The 'Bolts will now get ready for another series against the Midwest Sliders on Tuesday night at 7:05. The matchup for that contest will be RHP Chris Rubio (0-5, 6.08) for Midwest against TBA for Windy City.