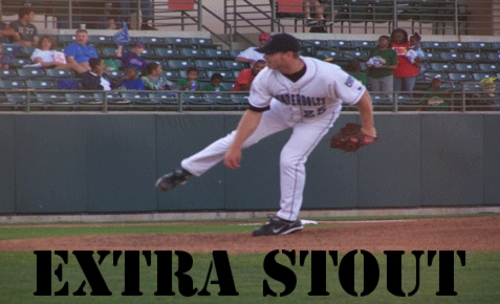 CRESTWOOD -- Ross Stout threw his league-leading fourth complete game of the season as the Windy City ThunderBolts (28-28) beat the Evansville Otters (27-30) by a score of 5-1 at Standard Bank Stadium on Wednesday night.
Ross Stout (6-3) went the distance allowing just one run on six hits while striking out seven. Stout threw three complete games last year for the Macon Music, making this the seventh complete game of his career.
Former ThunderBolt Billy Phillips (0-2) made his first appearance against Windy City since he won the Frontier League Championship last season with the 'Bolts. Phillips threw 8.0 innings giving up five runs on seven hits while striking out seven.
Windy City went ahead in the fifth inning after Amos Ramon delivered a double to right center field to score Wes Long and Josh Horn. Ramon now has three doubles and three RBI in his last two games started at second base. After an Evansville run in the top of the sixth, the 'Bolts brought home three more runs in their half of the sixth. Long and Horn delivered the run-scoring singles in the sixth inning.
The ThunderBolts will now head on the road to battle River City for three games. It will be the start of a six-game road trip in the St. Lous area for Windy City. It will be RHP Amos Ramon (3-3, 4.30) for the 'Bolts against RHP Danny Powers (3-5, 5.43) for the Rascals. Game time is set for 7:05 p.m.