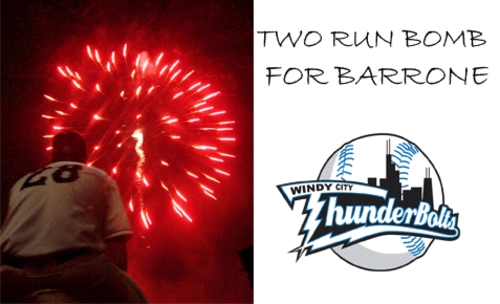 CRESTWOOD – The Windy City ThunderBolts (23-21) tried to come back from a 6-2 deficit, but it was too little, too late as the Gateway Grizzlies (23-21) defeated the Windy City ThunderBolts 6-4 in front of a crowd of 1,576 at Standard Bank Stadium on Saturday night.
Windy City starter Mike Eisenberg (1-4) lasted 5.0 innings giving up four runs on six hits in the loss. Gateway took an early 2-0 lead against the tall right-hander when Charlie Lisk hit his league-leading 13th home run in the second inning.
The ThunderBolts tied the game in the bottom of the fourth after finally getting their first base hit of the game with one out in the frame off Gateway starter Derek Blacksher (6-2). Mike Coles delivered the breakthrough hit to extend his hitting streak to 16 games. Wes Long then pushed his hitting streak to 14 games with a run-scoring double to left. Josh Horn followed with an RBI-single to tie the game at 2-2.
Gateway came back to re-take the lead in their half of the fifth with two runs of their own. Stephen Holdren and Michael Campbell delivered the run scoring singles to make the score 4-2 in favor of the Grizzlies.
Gateway added another run in the sixth and one more in their half of the eighth. It was in the eighth when Windy City manager Brian Nelson was ejected from the game for arguing balls and strikes. Kyle Shelton was at the plate when home plate umpire Erik Sawchuck asked for an appeal on a check swing. Brian Nelson then came out onto the field to argue before he was ejected.
Windy City pulled to within two runs after Ben Barrone hit his fourth homer of the year with a runner on in the bottom of the eighth. The 'Bolts were able to put runners and second and third with two outs in the eighth, but couldn't get anymore home as Phil Hawke struck out against Joel Boeschen.
Zack Gray earned his fifth save of the year for the Grizzlies retiring three in a row after giving up back-to-back singles to lead off the ninth.
The ThunderBolts will hope to take the rubber match of the three-game series against the Grizzlies on Sunday at 6:05. The match-up will be RHP Justin Lilly (3-1, 4.57) for Gateway against RHP Stephen Flake (4-1, 3.94) for the ThunderBolts. It will also be another Standard Bank Sunday as families of three or more will receive $2 off the price of admission of a Lower Level Seat with a coupon from Standard Banks. Coupons can always be picked up at a Standard Bank branch, visiting
www.standardbanks.com
or cutting out of the Regional Reporter newspaper on Thursdays.