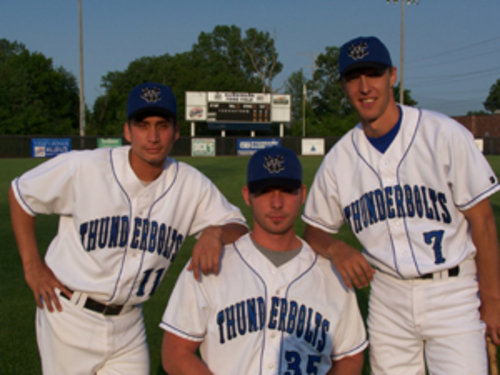 EVANSVILLE, IN - A two run home run by Windy City ThunderBolt infielder Clemente Bonilla in the bottom of the eighth inning started a three run rally to bring the West Division All-Stars back from a 4-1 deficit to tie the Frontier League All-Star Game at 4 in the ninth on Wednesday night.
The game would end in a 4-4 tie due to both managers using all available players by the end of the ninth. League Commissioner Bill Lee called the game a draw and set up a post game home run derby to determine home field advantage for the League Championship Series. Washington's Pat Peavey and Kalamazoo's Ray Gill and Ian Church combined for just one home run, off the bat of Church. The West tapped three Evansville Otters: OF Beau Blacken, 1B Jeff Goldbach, and 3b Matt Edwards. Blacken took two out to left field within the first ten pitches he saw to end the derby and secure home field for the West.
All three ThunderBolt All-Stars saw action. Bonilla (pictured, 11) went 1-3 at the plate after entering in the sixth inning. Bonilla's eighth inning home run came off of Chillicothe closer Eric Teall. Pitcher Mike Mlotkowski (35) lasted two thirds of an inning and gave up all four East runs on a grand slam by Kalamazoo's Ian Church. Church's slam was the first in the history of the Frontier League All-Star Game. . Mlotkowski gave up a one out single to Kalamazoo's Pete Pirman before walking Chillicothe's Matt Cooksey and Traverse City's Stephen Young. Church then came to the plate and went deep to left-center. Bolt closer Brian Beuning (7) came in to pitch the ninth and allowed just one base runner to reach on a two out walk. Beuning struck out two in his inning of work.
Blacken was named the game's MVP for his derby heroics and for a game tying double in the ninth frame off of Kalamazoo's closer Brad Blackwell.
The ThunderBolts take Thursday off before kicking off their second half at Gateway on Friday night. The ThunderBolts send Toro Trevino (1-1, 2.30 ERA) against RHP Chris Little (2-2, 2.74 ERA). First pitch is 7:05.