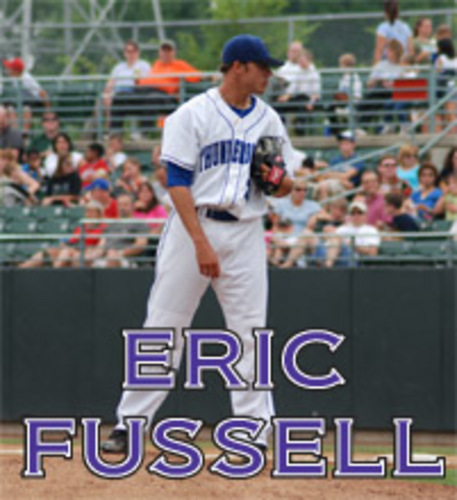 The 2007 Frontier League Champion Windy City ThunderBolts professional baseball team has announced that right-handed pitcher Eric Fussell has resigned for the 2008 season. Fussell is a native of Crestwood and resident of Mokena; he graduated from Marist High School in Mount Greenwood.
Eric Fussell was the ThunderBolts' top starting pitcher last season, posting a 12-2 record and 3.26 ERA, striking out 66 batters in 113.1 innings over 19 starts, including a 8-1 record and 2.49 ERA for his last ten starts. His 12 victories led the ThunderBolts and were good for third in the Frontier League. Fussell was the starting pitcher for the first playoff game in team history, a 3-2 extra-inning win over the Rockford RiverHawks on September 4.
Fussell was originally acquired in a trade with the Joliet Jackhammers following the 2006 season. He made his professional debut with Joliet in 2006, compiling a 1-1 record and 3.42 ERA in 19 games (three starts). A graduate of St. Joseph's College, Fussell posted a 12-8 record and 2.68 ERA over his career with the Pumas.
Fussell led Marist High School to a third place finish in the 2001 Class AA Baseball Tournament. He finished his senior season at Marist with a 13-0 record and 1.94 ERA in being named to the East Suburban Catholic All-Conference Team.
"Eric will once again be one of the top of the rotation guys for the ThunderBolts," commented field manager Brian Nelson. "I look for him to continue his dominance of the Frontier League and play a major role as we look to defend our title."