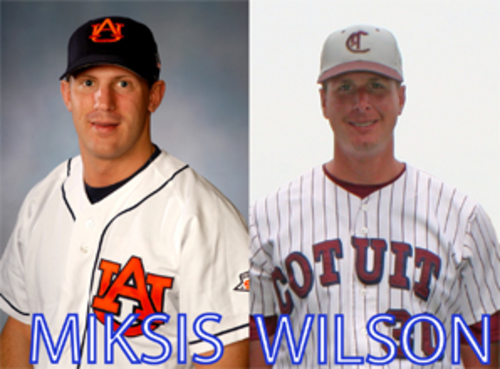 Windy City ThunderBolts' field manager Brian Nelson has announced the completion of his inaugural coaching staff. Joining Nelson and returning bench coach Mike Kashirsky is Jim Miksis as pitching coach and Kevin Wilson as hitting coach.
Jim Miksis spent the 2007 season coaching in the Florida Marlins' organization, working with the Jupiter Hammerheads of the Florida State League and the Marlins' post-season mini-camps. Miksis also has experience as pitching coach for Faulkner University and Brewton-Parker College plus the Peninsula Pilots of the Coastal Plains League. As a player, Miksis pitched for Auburn University, helping the Tigers to the 2003 NCAA Tournament.
"I am very happy for Jim on his new position as Windy City's Pitching Coach," commented Brian Chattin, Director of Player Development for the Florida Marlins. "Jim is a quality person with excellent character and tremendous work ethic. He is ready for this new challenge and will be a true asset to the Thunderbolts this upcoming season."
Kevin Wilson made his coaching debut in 2007, assisting the Kalamazoo Kings during spring training before assuming the hitting coach position with the Cotuit Kettleers of the Cape Cod League. Prior to coaching, Wilson spent six seasons playing professionally, including stints with the Rockford RiverHawks, Gateway Grizzlies, Florence Freedom, and Kalamazoo Kings of the Frontier League.
"Kevin is a great guy and I hold him in high regards," said Florence field manager Jamie Keefe, who managed Wilson in 2004. "He teaches fielding and hitting very well."
"Jim brings the professional knowledge and motivation to help keep the Thunderbolts at the top, while Kevin is very familiar with the Frontier League and will be responsible for our hitting and infield play," analyzed ThunderBolts' field manager Brian Nelson. "I look for both Jim and Kevin to continue the winning tradition established by the 2007 squad."
Jim Miksis takes over the pitching coach role from Brendan Sagara, who accepted a position on the Evansville Otters' staff. Kevin Wilson replaces Ronnie Deck, who resigned to accept a position as Major League Bullpen Catcher with the Baltimore Orioles.