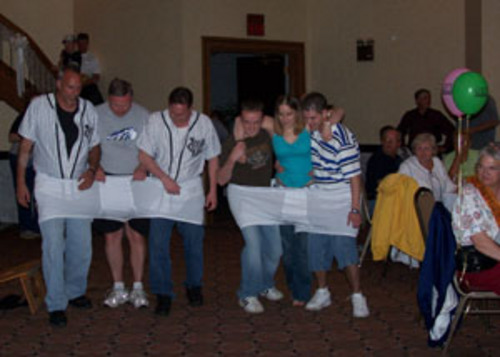 Crestwood, IL - The Windy City ThunderBolts' first annual FanFest was attended by more than 150 people on Thursday, May 4. With little more than two weeks left until Opening Day, the event at Georgios Comfort Inn gave fans an exciting preview of the upcoming season.
One of the highlights was the unveiling of Windy City's new home uniforms. The new threads are white with blue trim and 'ThunderBolts' in blue lettering across the chest. There are blue numbers on the lower right front and on the back.
The ThunderBolts debuted the three-legged underwear race, a new on-field promotion this season. Three contestants have to squeeze together into a pair of size-100 underwear and beat the opposing team to the finish line.
Samples of new menu items were also available. Pepe's Mexican Restaurants gave fans a taste of the flan and Mexican jello they will be selling at Hawkinson Ford Field this summer. D & D's Ice Cream served Mini Melts, an ice cream treat that comes in a variety of flavors and can be mixed to create even more. Red Hot Chicago was on hand with samples of the Italian sausage that will be at the park this season.
Potential national anthem singers were given the opportunity to tryout for a chance to perform at a ThunderBolts game this season. Many fans walked away with ThunderBolts raffle prizes and other merchandise. ThunderBolts players signed lots of autographs and chatted with fans. The new ThunderBolts bean bag game was introduced and will be available near the beer garden during games. Pictures of FanFest are available by going to the Photo Gallery at www.WCThunderBolts.com.
Single game tickets, full season tickets, skybox suites, group outings, birthday parties, and Kids Club memberships are currently on sale and can be purchased by calling the ThunderBolts office at 708-489-2255. For the latest team news and schedule info, please visit www.WCThunderBolts.com. The Windy City ThunderBolts are a member of the 10-team Frontier League, an independent league with teams in the Midwest.