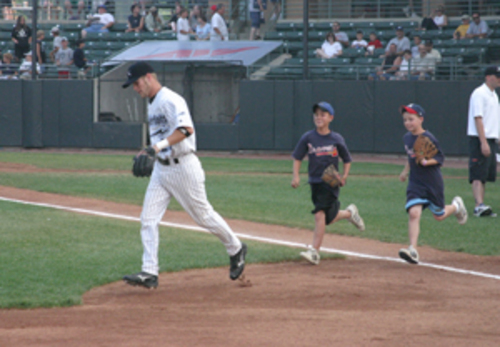 Crestwood, IL - The Windy City ThunderBolts are once again offering the Field of Dreams program, sponsored by White Hen. This allows little league baseball and softball teams to experience the thrill of taking the field with the ThunderBolts before a game.
The team members will have their names announced along with a ThunderBolts player and will run out with the player to his position. The participants will remain on the field during the national anthem. There will also be an opportunity for autographs before leaving the field. Teams are encouraged to wear their uniforms to the game.
The cost for the Field of Dreams program is only $15.00 per person. The price includes a box seat ticket for the game, hot dog, chips, ice cream treat, and a soda. A minimum of ten people is required to participate in the program. To sign a team up for the Field of Dreams program, please call Pete Kelly at 708-489-2255.
Windy City's pre-season kicks off with ThunderBolts FanFest on May 4 from 6-9 PM at Georgios Comfort Inn in Orland Park. The Rockford RiverHawks visit Hawkinson Ford Field on Saturday, May 13, for an exhibition doubleheader beginning at 2 PM. The ThunderBolts begin the 2006 regular season with "Delta Sonic Presents ThunderBolts Opening Series" from May 24-26.
Single game tickets, season tickets, skybox suites, group outings, Kids Club memberships, and birthday parties are currently on sale and can be purchased by calling 708-489-2255. For the latest team news and promotional schedule info, please visit www.WCThunderBolts.com. The Windy City ThunderBolts are a member of the 10-team Frontier League, an independent league with teams in the Midwest.