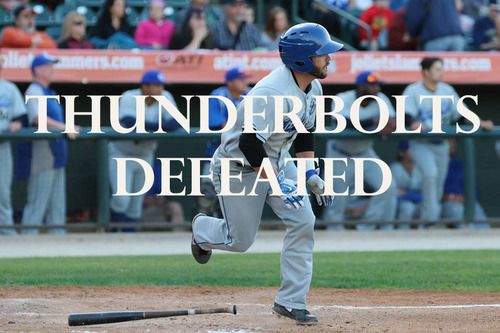 AVON, OH – The Lake Erie Crushers scored four runs in the third inning to capture a 5-3 decision from the ThunderBolts in the opener of a three-game series at All Pro Freight Stadium Tuesday night.
The ThunderBolts took a first-inning lead without the benefit of a hit. Coco Johnson and Cody Keefer each drew four-pitch walks from Josh Heddinger and stood at first and second with two outs. A double steal moved both men up and a throwing error from catcher Bryan De La Rosa allowed Keefer to score to give the Bolts the 1-0 lead.
They added to the lead in the third. With two outs, Corey Bass doubled and Keefer singled him home.
Lake Erie (36-43) took control in the bottom of the third. De La Rosa doubled and Robb Paller walked before Brendan Costantino got the Crushers on the board with an RBI single. One pitch later, Connor Oliver hit a three-run homer to put the ThunderBolts down 4-2.
Windy City made it a one-run game when Ransom LaLonde singled to lead off the fourth and moved to third on an error. He scored when Blair Beck grounded into a double play.
The Crushers added one more run of insurance in the fifth. Oliver walked, stole second and came home on a Jose Barraza single. Barraza reached base four times overall.
The Windy City bullpen did a good job of holding Lake Erie back any further as Austin Delmotte, Zac Westcott and Cameron Giannini each threw a scoreless inning, but Heddinger allowed only two baserunners after allowing his last run in the fourth inning.
Heddinger (3-4) pitched a season-high seven innings and picked up a win in his Lake Erie debut after arriving in a trade with Schaumburg last week. Tyler Murphy (2-5) took the loss. He allowed five runs on seven hit in five innings. Four of the runs and four of the hits came in the third inning.
The ThunderBolts and Crushers continue their three-game series at All Pro Freight Stadium on Wednesday. Jayson Yano makes his professional debut on the mound for the Bolts in game two against Lake Erie's Juan Caballero (1-1, 4.22). First pitch is scheduled for 6:05 and the radio broadcast can be heard on WXAV 88.3 FM and wxav.com.