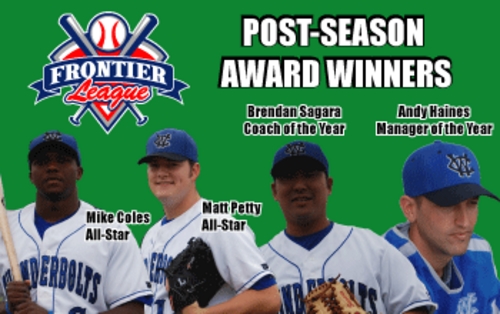 Crestwood, IL – Windy City ThunderBolts manager Andy Haines was named the recipient of the Roger Hanners Manager of the Year Award. Outfielder Mike Coles and relief pitcher Matt Petty were selected as 2007 Frontier League Postseason All-Stars. ThunderBolts pitching coach Brendan Sagara was chosen as the Coach of the Year.
In his first year as a professional manager, Haines guided the ThunderBolts to a Frontier League record for wins in a single season. He also led the franchise to its first division title and playoff berth.
Coles is one of three outfielders selected to the Postseason All-Star team. He has been among the league leaders in batting average all season and had a 25-game hitting streak to start the year. Coles also played for the North All-Star team in the 2007 All-Star Game in Florence.
Petty tied the league and franchise record for saves in a season on Monday with his 24th save of the year. He has a shot to break the record this weekend in Traverse City. The record was set last season by the ThunderBolts' Brian Beuning. Petty has only allowed 11 runs all year and has 54 strikeouts in 44.2 innings pitched. Petty joined Coles on the North All-Star team at mid-season.
Sagara's pitching staff currently leads the league in ERA with a 3.62 mark. The next closest team is Washington with a 4.11 team ERA. ThunderBolts pitchers also lead the league with 10 shutouts and 31 saves.
The ThunderBolts host the franchise's first playoff game ever at Standard Bank Stadium on Tuesday, September 4 at 7:05pm. There will be a softee ball giveaway and postgame fireworks courtesy of Standard Bank. Game 2 on Wednesday, September 5 at 7:05pm features $1.00 draft beers and fountain sodas. Tickets are available by calling 708-489-2255.