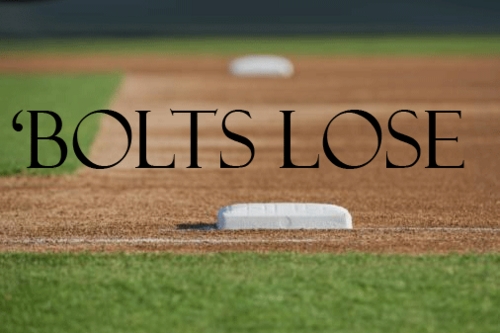 SAUGET, IL – The ThunderBolts hit four home runs but the Gateway Grizzlies scored two runs in the ninth to beat the Bolts 6-5 at GCS Ballpark Sunday night, completing the three-game sweep.
Mike Torres gave the Thunderbolts the early lead when he hit his first home run of the year in the first inning. In the third, Coco Johnson reached on an error and scored on a groundout to extend the lead to 2-0.
The Grizzlies came back to tie the score with two runs in the fourth. With two outs and a runner at second, Richard Seigel hit an RBI single and Grant Buckner drove him on a double, making it 2-2.
The ThunderBolts quickly reclaimed their lead with two home runs in the fifth. Jonathan Garcia and Austin Gallagher gave the Bolts their first back-to-back homers of the year.
Gateway chipped away with a run in each of the next two innings. Jared Welch's first professional hit was an RBI single in the fifth and they tied the score with a Rolando Gomez run-scoring single in the sixth.
Jonathan Garcia responded again with his second solo home run of the game in the sixth and the ThunderBolts led 5-4.
That score held into the ninth when the Grizzlies started with back-to-back singles. After a sacrifice bunt advanced the runners, Ryan Soares tied the score with a single. Madison Beaird followed with a grounder to first. Gallagher's throw came home and Cody Livesay knocked the ball out of Larry Balkwill's glove, sliding in safely to give the Grizzlies a 6-5 win.
Scott Harkin (1-1) pitched two scoreless relief innings for the win and James Jones (0-1) allowed two runs in the ninth for the loss.
The ThunderBolts take Monday off before returning home to take on the Normal CornBelters on Tuesday. Jake Fisher (1-2, 5.29) gets the start for Windy City against Normal's Kevin Brahney (4-2, 3.85). It is $2 Ticket Tuesday at Standard Bank Stadium as well as a replica helmet giveaway courtesy of A.J. Smith Federal Savings Bank. The game starts at 7:05 and fans not in attendance can hear the broadcast at wcthunderbolts.com.