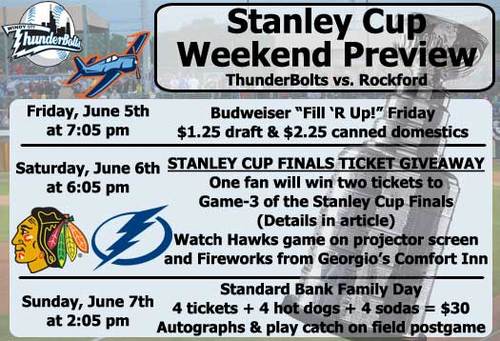 Windy City ThunderBolts vs. Rockford Aviators
June 5-7 Weekend at Standard Bank Stadium
Friday, June 5th at 7:05 pm: Budweiser "Fill 'R Up!" Friday with $1.25 12 oz Draft & $2.25 16 oz Canned Domestic Beer
Saturday, June 6th at 6:05 pm: Postgame Fireworks sponsored by Georgio's Comfort Inn. Game two of the Stanley Cup Finals between the Blackhawks and Lightning will be shown on a projector screen under the Left Field Picnic Pavilion. After the fireworks show fans are allowed on the field to watch the rest of the Hawks game on the videoboard.
Stanley Cup Finals Ticket Giveaway Rules:
- One fan in attendance at the Saturday, June 6th ThunderBolts game will win two tickets to Game-3 of the Stanley Cup Finals between the Chicago Blackhawks and Tampa Bay Lightning. This game is at the United Center in Chicago on Monday, June 8th at 7 pm. These tickets are two seats in the 300 level behind the net the Hawks shoot at twice.
- All fans 18-years of age and older are eligible to enter in a free raffle. You must have a Valid ID and game ticket. One raffle ticket per person...not for the amount of tickets you have.
- One raffle ticket will be drawn immediately after the conclusion of the baseball game
- Winner MUST be present to claim prize. If the winner is not present 15 minutes after the ticket is announced another ticket will be drawn.
Sunday, June 7th at 2:05 pm: Standard Bank Family Day. 4 tickets + 4 hot dogs + 4 sodas for $30. Postgame autographs and play catch on the field