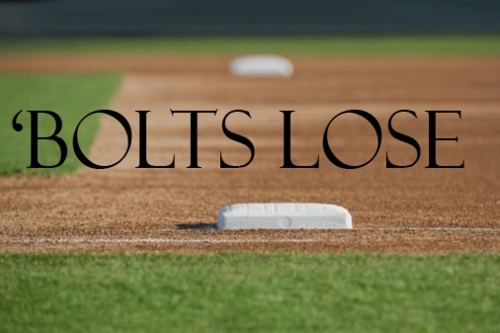 CRESTWOOD, IL – The ThunderBolts took an early 2-1 lead but could not hang on as the Southern Illinois Miners dealt them their fifth straight loss, 4-2 at Standard Bank Stadium Tuesday night.
The Miners (6-4) struck first, getting a two-out RBI double from Niko Vasquez in the top of the first, but the ThunderBolts (3-6) came right back in the bottom of the inning. Coco Johnson led off for the Bolts with his first home run of the season. Two batters later, Jonathan Garcia tripled and Jacob Tanis singled him in to make it 2-1.
The ThunderBolts had five hits overall in the first two innings before Matt Bywater, last year's Frontier League Pitcher of the Year, settled in and did not allow another hit in his seven innings.
Southern Illinois tied the score in the fourth inning when Sako Chapjian singled home Jerrud Sabourin for his first professional hit. They took the lead the following frame. Michael Earley stood at first with two outs when Sabourin hit a flyball to centerfield. Johnson lost it in the lights and Earley came around to score the go-ahead run.
The Bolts had a good chance to tie in the sixth. Bywater walked Garcia and Tanis to begin the frame and they stood at second and third with one out, but Bywater recovered to strike out the next two hitters.
The Miners added insurance in the eighth, scoring their third two-out run. Aaron Gates singled home Chapjian, who had walked to make it 4-2.
Bywater (2-0) allowed two runs over seven innings for the win while Danny Jimenez (0-1) took the loss, giving up three runs in five innings. Will Rankin worked a scoreless ninth for his league-leading fifth save.
The ThunderBolts and Miners resume their series on Wednesday morning. Travis Tingle (0-2, 2.92) will make his third start for Windy City against Southern Illinois's Adam Lopez (2-0, 0.64). First pitch is scheduled for 10:35 on the third School Day at Standard Bank Stadium. The broadcast can be heard at wcthunderbolts.com.