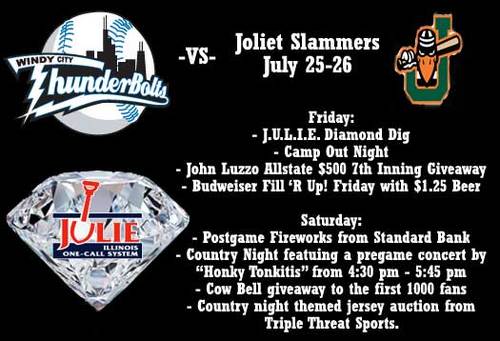 Grab your tent and sleeping bag, Friday, July 25th is Camp Out Night at the ballpark! Fans can enjoy the game at 7:05 versus the Joliet Slammers, then set up a stake less tent on the outfield, run around and play catch, then watch a movie with free popcorn and soda. The next morning all campers will enjoy breakfast at the ballpark. It's also time for the Diamond Dig sponsored by J.U.L.I.E. A diamond will be buried somewhere in the infield, and after the game women ages 18 and up that signed up at the J.U.L.I.E. table will be able to hit the dirt try to dig it out*! It's still a Fill R' Up Friday courtesy of Budweiser, with domestic drafts are $1.25 and domestic cans are $2.25. Also on Friday night John Luzzo Allstate will be holding a drawing to see who has the chance to win $500 cash! If a ThunderBolt player hits a home run in the 7th of Friday's game then the one lucky fan will win the cash. But you have to sign up for a chance to win and sign up is free!
Country Night returns to Standard Bank Stadium on July 26th. First pitch is at 6:05 p.m., but gates will open at 4 p.m. and the band Honky Tonkitis will perform a pre-game concert at 4:30 in the Beer Garden. Standard Bank is giving away cowbells as fans enter the ballpark as well as sponsoring the best post game fireworks show in the world! It's also the second Jersey off their Back night courtesy of Triple Threat Sports, with the ThunderBolts wearing special country themed jerseys that fans can win via a silent auction going on throughout the game.
Seats are still available for all games, for more information please visit us at the Standard Bank Stadium Box Office, our website www.wcthunderbolts.com, or give us a call at (708)-489-2255. Go Bolts!