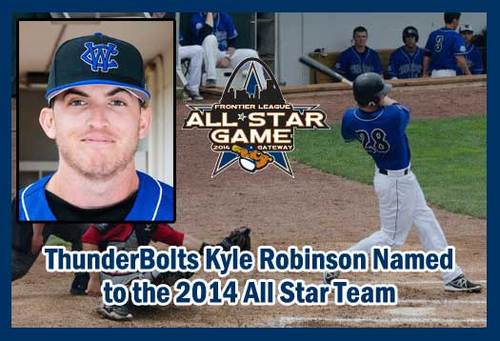 The Frontier League all-star teams were announced on Monday in preparation for the game to be played July 16 at Gateway and there was a ThunderBolt in the starting lineup. Kyle Robinson, the lone Windy City representative was elected as a starting outfielder.
Robinson will be appearing in his first All-Star Game in his second season in a Windy City uniform. The 25-year-old, who came to the Bolts in a July 2013 trade with Joliet, has taken the league by storm this year, leading all Frontier League hitters with a .388 batting average through Sunday. He also ranks in the top ten in RBIs with 34, doubles (13), slugging percentage (.594) and on-base percentage (.448). He has six home runs and six stolen bases.
Robinson, who was named the Frontier League's player of the week for the week of June 16, had the longest hitting streak of the season, when he collected a hit in 20 straight games. He turned that into a 26-game on-base streak, which is the league's longest this year as well.
Robinson will be the first ThunderBolt outfielder to start an All-Star Game since Mike Coles was in the 2008 starting lineup.
The all-star festivities will kick off at GCS Ballpark in Gateway on Tuesday, July 15 with the Home Run Derby followed by the Battle of the Sexes softball game. The game itself is scheduled for Wednesday, July 16 at 7:05.