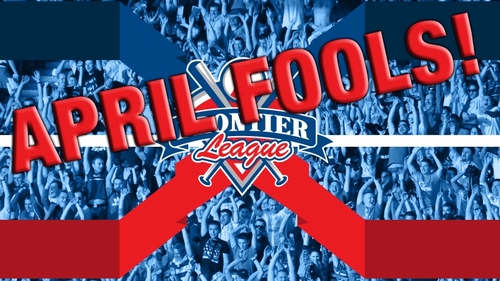 Crestwood, Ill. — A joint story from the teams of the Frontier League of Professional Baseball sparked a heated debate on social media outlets as the first-ever, league-wide April Fool's joke threatened the change to a 1-1 count to start every at bat in 2014. With Major League Baseball on the warpath to shorten games with such tactics as sending strongly worded letters to slow pitchers, limiting walk-up music to 15 seconds and adding instant replay to somehow speed up games, the Frontier League brought the discussion back to the forefront with a league-wide April Fool's Joke.
"The game of baseball is about as perfect as you can get," said Windy City ThunderBolts General Manager Mike Lucas. "It was certainly interesting to see the reaction from our loyal fans, our players (who we didn't clue in on the joke) and others around the country as people simply do not want core principles of their game altered, and we don't either."
Founded in 1993, the Frontier League has sent over 1,200 players to affiliated baseball and that includes an incredible 41 players since Opening Day 2013. The list of 25 players who made it to thebig leagues contains current major leaguers Steve Delabar of the Toronto Blue Jays, Joe Thatcher of the Arizona DiamondBacks and Tanner Roark of the Washington Nationals. The Frontier League boasts three alums that earned All-Star recognition in The Show including Brandon Donnelly, George Sherrill and Steve Delebar and three former players with World Series Rings in Donnelly with the Angels in 2002, Josh Kinney with St. Louis Cardinals in 2006 and Justin Christian San Francisco Giants in 2012.
"The fact remains that the Frontier League is the preeminent professional baseball league fordeveloping young talent in the country and, thankfully, silly things like our 'proposal' yesterday would never even be brought to the table at one of our league meetings," ThunderBolts General Manager Mike Lucas continued. "The ThunderBolts alone sent three players to affiliated baseball in the 2013 season, and the league has produced dozens of Major Leaguers in its illustrious history, so our
commitment to developing talent on the field is sincere and unwavering."
While some people figured it out right away, there were several hints were embedded in the original story. The phrase "Happy April Fool" can be found if you combine capitalized words from the release.The word "April" appears as you would expect it to be written, but the phrase becomes clear along with the unusual capitalization of "Happy" in paragraph two as well as the word "Fool" towards the
end of paragraph four. A 4/1 vote is also not a coincidence and neither is the "research" of Deputy Commissioner Steve Tahsler showing that 41% of all plate appearances with at least three pitches
advance to a 1-1 count.
"The Frontier League – and especially minor league baseball – is all about fun after all," Lucas added."We hope that even if we fooled you that you'll share a chuckle with us today and crack at least a little bit of a smile, because that's what we're all about. Fun is everything to us, and there are a lot more smiles and laughs waiting for all of our fans at all of our great stadiums this summer. See you at the
ballpark!"