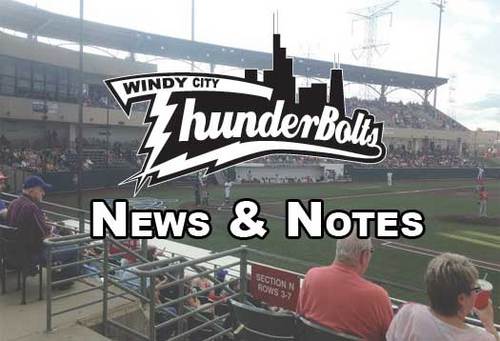 It is time to catch up on some happenings around the team including how the ThunderBolts roster is shaping up for 2015.
2015 Exhibition Schedule...
- The ThunderBolts will have four exhibition games as they prepare for the May 14th season opener. Windy City will travel to Schaumburg on Sunday, May 3rd to take on the Boomers. The Boomers will visit Crestwood the next day on Monday, May 4th. Both games against the Boomers are at 1 PM. The Bolts will then battle the Joliet Slammers on the road Friday, May 8th and at home on Saturday, May 9th. Both games are at 7 PM.
Tickets to the home exhibition games will not be sold. The ThunderBolts will open the ballpark and all fans are free to walk in and watch this exhibition in a general admission set-up. Please understand that there will be no concessions, promotions, or anything like a normal ThunderBolts game. Only the gates and the restrooms will be open. Food and drink is allowed into the ballpark on this date and we ask that you keep Standard Bank Stadium clean and throw out all trash.
New Faces for 2015...
Larry Balkwill was the starting catcher for the Ron Biga's Canada A's in California this winter. He got his first taste of pro ball last season, appearing in 14 games for Quebec of the CanAm League, going 8-39 at the plate. Balkwill was a .264 hitter with 15 home runs over four years at Siena College.
Drew Bradshaw is a rookie out of San Jose State University, where he was a teammate of ThunderBolts' reliever Jason Kafka. The 24-year-old left-hander spent four years there as a relief pitcher, appearing in 49 games and posting an 0-3 record and 6.51 ERA. He went 4-2 with a 2.76 ERA in seven starts for Ron Biga's Canada A's in the California Winter League.
Alex Chittenden was the first player to sign with the Bolts this offseason after joining the team in early November. He was the third Louisville graduate to join the club over the past three years following Travis Tingle and Zak Wasserman. Chittenden, who can play all over the infield, was a .294 hitter at Louisville in 2014 and hit .271 with a .378 on-base percentage in his four-year career.
Tyler Clark is the second catcher on the roster for 2015 after spending last year in the Arizona Diamondbacks system. He advanced as high as Double-A and played in 20 games total, hitting .265. Clark attended Dominican College in New York and was named an NCAA Division II Gold Glove winner in 2014.
Chris DeBoo came to the Bolts over the offseason to complete the deal that sent Daniel Cropper to Gateway last August. In parts of two Frontier League seasons, DeBoo has appeared in 44 games for the Grizzlies and Joliet Slammers, going 5-1 with a 4.66 ERA. A starter in college, he went 5-7 with a 4.65 ERA as a senior in 2013 for Valparaiso University.
Ryan Deitrich was another member of Ron Biga's Canada A's this winter. He led that team with a .370 batting average and 17 RBIs. The Duke product got a Frontier League cup of coffee last year, when he appeared in five games for the River City Rascals and went 1-13 with a walk.
Austin Delmotte was the top reliever for the California Winter League champion Canada A's. He went 3-0 with a 0.68 ERA in nine appearances, allowing only four hits in 10.1 innings. Delmotte, a Madonna University product, was with the Texas Rangers organization during spring training before signing with Windy City on March 24.
Zach Esquerra is a product of California Baptist University and the Arizona Diamondbacks system. In two professional years, the outfielder has hit 14 homers and driven in 73 runs with a .227 batting average. Esquerra peaked last year at Class A South Bend.
Cameron Giannini is another Frontier League veteran, having appeared in 18 games last season for the Traverse City Beach Bums. The 23-year-old right-handed relief pitcher went 0-1 with a 7.42 ERA. He was familiar with the ThunderBolts, pitching in three games against Windy City and allowing only one run in 4.2 innings.
Kyle Hayes is the fourth player signed by the ThunderBolts out of the University of Oklahoma in the last two years. He joins college teammates Max White and Jake Fisher on the current roster. Hayes most recently pitched at Oklahoma in 2013, when he appeared in 17 games and went 1-0 with a 3.23 ERA.
Danny Jimenez is one of a pair of ex-Schaumburg Boomers pitchers joining the Bolts this winter. He pitched for both of Schaumburg's championship teams, starting 25 games the last two seasons and compiling a 9-7 record with a 4.10 ERA. Though he missed the last month of 2014 to injury, Jimenez finished third on the team in innings pitched and wins.
Coco Johnson was the 11th round draft choice of the Miami Marlins in 2013 out of the University of Louisville. A 23-year-old center fielder, he hit .180 in two years with the Marlins with three homers and 25 RBIs, peaking last season at high-A Jupiter. When he signed on February 6, he became the fourth Louisville alum to join this year's team.
James Jones is the second former Boomer. He returns to pro ball this year after appearing in three games for Schaumburg in 2013 and sitting out last season. Jones has pitched as high as Double-A, a level he reached in 2012 in the Padres system. In his career, he has pitched in 67 games, posting a 6-7 record with a 3.64 ERA.
Ransom LaLonde was acquired by the Bolts in a February trade with the Amarillo Thunderheads (nee Sox) for Ryan Soares. LaLonde played in 18 games for the Sox in the American Association last year as a rookie out of St. Edward's University and hit .295 in 61 at-bats. He is expected to play primarily as a shortstop for the ThunderBolts.
Joel Lima will be the most experienced reliever on the ThunderBolts' staff this year. The brother of former Major Leaguer Jose Lima, he has appeared in 105 career games, going 10-2 with a 4.71 ERA. The 25-year-old Lima spent four seasons in the Los Angeles Dodgers organization, peaking in 2013 at Double-A Chattanooga.
Justin Martinez spent 2014 in the PECOS League, splitting time between Roswell and White Sands and posting a 6.00 ERA in 19 appearances. The hard-throwing right-hander attended Keystone College and finished his senior year in 2013 with a 1.50 ERA in 18 innings.
Tommy Nance is a rookie who has experience at two major college baseball programs. He spent his freshman year at Long Beach State before becoming one of the top starters for two years at Santa Clara University. He won seven games for the Broncos with a 3.99 ERA 23 starts.
Michael Rivera returns to pro baseball for the first time since 2012. He pitched in 19 games that year for the Arizona Diamondbacks rookie level affiliate. Rivera spent three years at Fresno Pacific University and went 9-7 in 49 games, primarily out of the bullpen, with a 4.62 ERA.
Jacob Tanis was the Frontier League MVP in 2013, when he hit 17 home runs and drove in 72 runs while leading the Florence Freedom to the playoffs. He spent 2014 with the Freedom as well, but lost much of the season to injury. The 25-year-old third baseman played parts of three seasons in the Oakland A's organization out of Mercer University. He was acquired by the Bolts in a three-team trade that sent Jessie Snodgrass to Gary.
Ryan Vega was signed on March 23 out of Waubonsee Community College, where he played in 2012 and 2013. In his final season there, he hit .305 with 34 RBIs. Vega is an infielder whose primary position is shortstop.
Zak Wasserman is back for his second go-round with the Bolts. He pitched one inning last year before being scooped up by the Diamondbacks. He ultimately appeared in 16 games out of the bullpen in the Arizona League and posted a 3.60 ERA.
Andrew Wellwerts is a local product, coming from Cedar Lake, Indiana. He attended Chicago State University and pitched there for three seasons, going 7-22 with a 5.67 ERA in 42 games, including 31 starts. He won four games and had a 4.28 ERA in 2013, his best year as a Cougar.
Brian Wuest has played in only 37 career games, but has two years of pro experience under his belt. He spent 2014 with the San Angelo Colts after appearing in 14 games for the Lincoln Saltdogs the year before. He is a career .238 hitter with a .344 on-base percentage and 15 RBIs.
The Windy City ThunderBolts open their 17th Frontier League season at Standard Bank Stadium on Thursday, May 14th vs. the Frontier Greys featuring $1.25 drafts & $2.25 bottled domestic beer and a postgame fireworks show! Season tickets, flex plans and group outing opportunities are available now! Call 708-489-BALL or check out wcthunderbolts.com for more information!