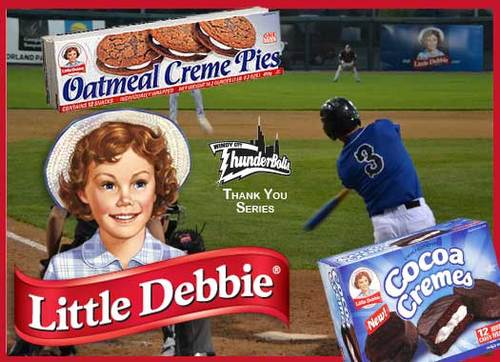 The Windy City ThunderBolts could not survive without its corporate sponsors. We would like to thank our sponsors from the 2013 season in a very special way. Every week we are going to feature a particular sponsor in our "ThunderBolts Thank You Series."
This week we look at McKee Foods and Little Debbie®
About McKee Foods and Little Debbie®: McKee Foods is the maker of the Little Debbie brand of snack cakes, headquartered in Collegedale, Tennessee. They are a privately owned company that started in 1934, when the McKee family purchased a small bakery in downtown Chattanooga, Tennessee. McKee Foods is best known for its line of Little Debbie® snack cakes. Little Debbie® is America's leading snack cake brand in unit sales. They provide consumers with quality products of excellent value. The Little Debbie® brand was introduced in 1960. McKee Foods offers more than 90 varieties of Little Debbie® multipack and single-serve snacks, including seasonal products. Products are sold in all 50 states, Canada, Puerto Rico, Mexico, and U.S. military commissaries overseas.
McKee Foods, Little Debbie® and the ThunderBolts: The partnership with McKee Foods and Little Debbie® started in the 2013 season. The sponsorship includes stadium signage, promotions, and product sampling. When attending a ThunderBolts game, you will be delighted to receive a Little Debbie® snack cake as you enter the stadium on select days. In addition, Little Debbie® snack cakes are given to everyone in attendance at the ThunderBolts School Day and Big Splash Day games throughout the season. The ThunderBolts incorporated a Little Debbie® toss into their game day promotions in 2013. Fans of all ages would scream for a chance to catch a Little Debbie® snack cake.
The ThunderBolts would like to thank McKee Foods and Little Debbie® for their support of the SouthSide's minor league baseball team!