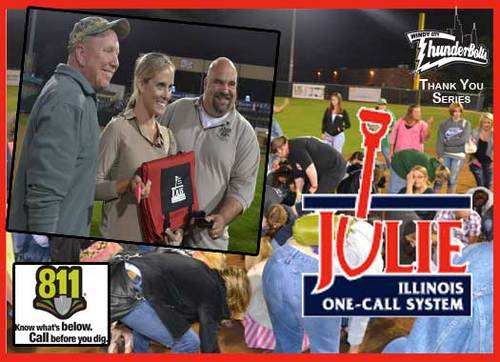 The Windy City ThunderBolts could not survive without its corporate sponsors. We would like to thank our sponsors from the 2013 season in a very special way. Every week we are going to feature a particular sponsor in our "ThunderBolts Thank You Series."
This week's we look at JULIE, Inc.
About JULIE Inc.: JULIE Inc. provides Illinois excavators and underground utility owners with a continuously improving, one-call message handling & delivery service committed to protecting underground utilities & the safety of people working or living near them.

JULIE began operations in Will County as a not-for-profit corporation on Aug. 1, 1974. It expanded to include all of Illinois except the city of Chicago in December 1980. Thanks to successful initiatives and the active participation of our members, JULIE has established itself as one of the largest one-call centers in the nations with more than 1,750 members.
You may be surprised by what's buried in your yard. That's because most electric, gas, water, sewer and telecommunications companies are delivering utility services underground. To avoid personal injury and damage to those underground lines, state law requires you to contact JULIE before any digging project, regardless of the project size or depth. Both the call and JULIE's services are free! You can contact JULIE by phone at 811 or you can E-Request online at illinois1call.com.
JULIE, Inc. and the ThunderBolts: JULIE, Inc. has been a valued partner with the ThunderBolts since the 2008 season. Believe it or not...that first year of the relationship was highlighted by the construction of an enormous sandbox on the ballpark concourse! In addition to signage the sandbox was at Standard Bank Stadium from 2008-10 and reminded fans to "Call JULIE before your dig!"
Since the 2011 season, JULIE began to sponsor the "Call to the pen!" JULIE would receive an announcement and message on the scoreboard every time either the ThunderBolts or visitors changed pitchers. For the first pitching change JULIE t-shirts would be thrown into the stands. JULIE continued to have signage down the right field line and at the ballpark entrance.
Finally JULIE brought back a major event to the ballpark in 2013. The Diamond Dig, sponsored by JULIE, was a big hit at the ballpark. In the event, all women 18 years of age and older, were invited down to the infield to look for a one karat diamond buried in the infield dirt. The women were given JULIE shovels to help them with the digging! JULIE and the ThunderBolts are proud to announce that the Diamond Dig will be back in 2014! During our School Days in 2013, JULIE came out to promote safe digging while giving the kids JULIE themed gifts.
The Windy City ThunderBolts would like to thank JULIE, Inc. for their support of the SouthSide's minor league baseball team.