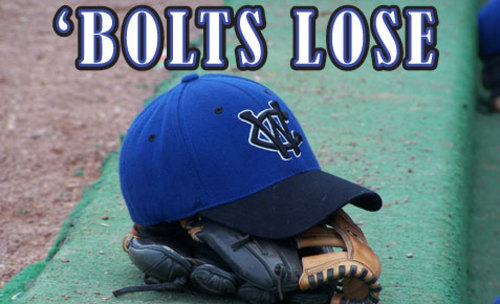 CRESTWOOD, IL – The ThunderBolts' four-game win streak was snapped Sunday night as Cody Griebling and the Schaumburg Boomers shut down the Windy City offense in a 2-1 Schaumburg victory at Boomers Stadium.
The Boomers struck the scoreboard first, plating a run in the second inning against ThunderBolts starter Travis Tingle. Brian McConkey and Frank Pfister hit back-to-back singles and were positioned at the corner bases with one out when Alexi Colon flew out to shallow left field. Kyle Robinson made the catch for the Bolts and turned toward center field, allowing McConkey to head for home. He narrowly beat Robinson's throw to put the Boomers up 1-0.
They made it 2-0 in the fourth inning when Pfister hit a two-out RBI single, scoring Steve McQuail, who had doubled earlier in the inning.
Tingle allowed just one hit after the fourth inning as he pitched his first career complete game. He retired 12 of the last 14 men that he faced.
The ThunderBolts' run came in the sixth inning. Mike Torres led off with a walk and Ryan Soares, who reached on a fielder's choice made it to third base with two outs before Robinson delivered an RBI base hit.
The Bolts had opportunities after that, but could not produce any more runs off Griebling or the three Boomers relievers. They left nine men on base, including Andrew Brauer, who led off the ninth with a single but was stranded at third.
Griebling (5-5) pitched six innings for the win and Tingle (3-5) was the tough-luck loser. Dexter Price pitched the ninth for his eighth save.
The ThunderBolts will wrap up a two-game series in Schaumburg on Monday night. Dyllon Nuernberg (6-1, 2.33) will pitch for the Bolts against Seth Webster (1-1, 2.55) for the Boomers. First pitch is scheduled for 6:30 at Boomers Stadium and the broadcast can be heard on wcthunderbolts.com.