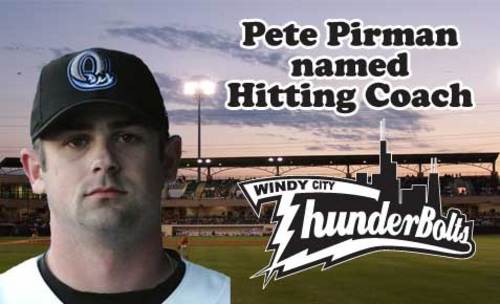 The Windy City ThunderBolts have added Pete Pirman to the coaching staff. He will instruct the hitters for the 2013 season.
The upcoming season will be Pirman's return to the Frontier League where he spent the lion's share of his playing career. In five seasons with Evansville, Richmond and Kalamazoo, he was a .300 hitter with 47 home runs and 247 RBI. He was named the Most Valuable Player in 2005 for historic campaign in which he hit .347 and slugged 23 home runs for the Kalamazoo Kings. His 100 RBIs that season remain the Frontier League standard, tied in 2012 by Traverse City's Jose Vargas.
After leaving the Frontier League, Pirman played two more years in other independent leagues, finishing 2008 with a .287 batting average in 536 career games. He totaled 55 home runs and 335 RBIs. He concluded his career by appearing in three games in 2010 for the Lake County Fielders.
His coaching career includes time as the hitting coach of those Fielders in 2010 under current Florence Freedom manager Fran Riordan. That year's Fielders hit .267 and scored 4.7 runs per game.
A native of Palatine, Pirman attended Triton College in River Grove, where ThunderBolts manager Ron Biga was an assistant coach, before finishing his collegiate career at Eastern Illinois University.
Last year's ThunderBolts team hit .257 with 75 home runs and finished eighth in the league with 4.6 runs per game.