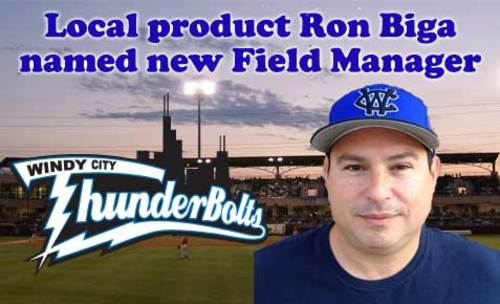 The ThunderBolts have announced that Ron Biga has been promoted to Field Manager for the 2013 season. Biga replaces Morgan Burkhart, who stepped down last week to accept a job with the San Diego Padres. Ron Biga will be the 17th manager in franchise history (Cook County Cheetahs and Windy City ThunderBolts). Biga had been hired by the ThunderBolts earlier this month as bench coach and Director of Baseball Operations.
Although it is the first professional managing job for Biga, he is a veteran of the Frontier League and independent ball in general. 2013 will be his sixth year in the league after he spent three seasons on the staff of the Southern Illinois Miners and the last two with the Joliet Slammers.
He is also familiar with the south side of Chicago, having played at St. Rita High School, where he was an All-American, and Saint Xavier University.
Biga began his professional coaching career in 2006 with the Sioux City Explorers of the American Association. He served there for two years as an assistant coach and Director of Player Procurement. He has held similar positions for the past five years with Southern Illinois and Joliet.
Well known around the league for his ability to bring in talent, Biga is considered the architect of the 2011 Joliet Slammers team that won the Frontier League championship. In his five years in the league, he has only once been part of a team with a losing record.
Biga's coaching career also includes five seasons as an assistant at Triton College.
He will get an early opportunity as Windy City's manager against one of his former clubs as the ThunderBolts visit Southern Illinois May 17-19 in the first full series of the 2013 season.