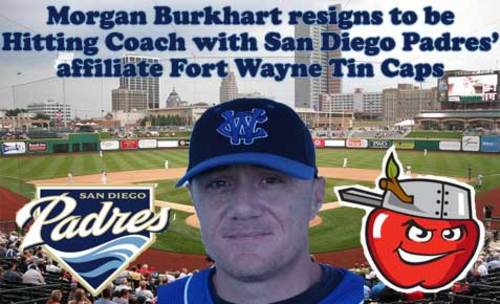 The Windy City ThunderBolts have announced that Morgan Burkhart will step down after one year as the team's field manager. Burkhart had signed a contract extension to remain with the ThunderBolts but instead will accept the position of hitting coach for the Fort Wayne TinCaps, the Class A affiliate of the San Diego Padres. It will be his first coaching job in the affiliated ranks.
Burkhart replaces former Major Leaguer Jacque Jones, who has been promoted to the Padres Class AA San Antonio club. When asked about the field staff by the Fort Wayne Journal Gazette , Padres Director of Player Development and International Scouting, Randy Smith commented, "I am glad we are able to keep a majority of the staff together, and I think Morgan Burkhart will be a good addition to those two guys (referring to TinCaps manager Jose Valentine and pitching coach Willie Blair)."
Burkhart managed the ThunderBolts to a 54-42 record in his lone season with the club, finishing two games away from a playoff spot. Overall, he has managed for four seasons, including three with the Calgary Vipers of the Golden and North American Leagues. His career managerial record is 209-137.
As hitting coach with Fort Wayne, Burkhart will return to the role he filled with Calgary in 2007 and 2008, his first two years of coaching.
Under Burkhart in 2012, the ThunderBolts offensive production ballooned. Their 75 team home runs were seven more than the combined total from the previous two seasons. The 'Bolts hit .257 and scored 4.6 runs per game, both numbers ranking eighth in the league.
Windy City has served as a pipeline to the Padres system over the past several years. Since the start of the 2009 season, six ThunderBolts have been signed by San Diego. Burkhart is the first coach. He joins 2007 pitching coach Brendan Sagara, 2007 manager Andy Haines and 2009 manager Tommy Thompson as former Windy City coaches currently in affiliated ball.