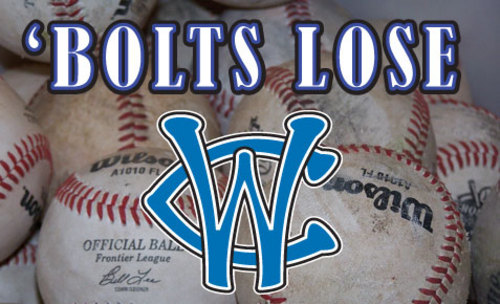 CRESTWOOD, IL –Traverse City scored all 11 of their runs in the fifth and sixth innings in their second straight lopsided win over the ThunderBolts. The Bolts lost their third straight, 11-3 at Standard Bank Stadium Thursday night.
The Beach Bums left eight men on base over the first four innings before breaking through on the first pitch of the fifth. Jose Vargas's 21st home run of the year put them up 1-0. With the bases loaded and no outs, Mike Recchia was called in to pitch. He gave up two hits as all three runs scored, charged to starter Blayne Weller.
Brandon Decker hit his 13th homer in the bottom of the fifth to pull back to within three, but Traverse City took control in the sixth.
They sent 11 men to the plate against a pair of ThunderBolt pitchers and scored seven runs on four hits. The Bums got RBI hits from Chase Burch and Kyle Eveland. Marcus Nidiffer drew a bases loaded walk and the big hit came from Vargas. His second double of the sixth inning brought home three runs to make it 11-1.
Windy City's final runs would come in the bottom of the sixth when C.J. Gillman singled and Chad Cregar followed with his 21st home run, tying Vargas for the league lead.
Mark Kuzma pitched the final three innings scoreless while Jacob Clem started and finished the game for the Beach Bums.
Weller (4-1) took his first loss of the season while Clem (4-4) won for the first time since June 27.
Both the series and the six-game homestand conclude Friday night as the ThunderBolts try to avoid the sweep on Budweiser Fill 'R Up Friday at Standard Bank Stadium. Domestic draft beers will be sold for just $1.25. It is also Pet Night and Camp Out Night at the park. Tyson Corley (1-6, 4.24) will get the start for the ThunderBolts against Traverse City's Bennett Whitmore (5-2, 4.15). The game is scheduled to begin at 7:05 and can be heard on sportsjuice.com.

Box Score