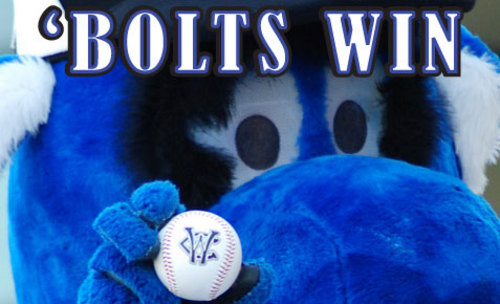 CRESTWOOD, IL – Devin Shepherd drove in two runs on a first inning triple and it held up as Dustin Williams and the ThunderBolts shut out the Lake Erie Crushers 2-0 at Standard Bank Stadium Sunday night.
Williams faced trouble in the top of the first. After retiring the first two batters, he allowed a double and two walks to load the bases. Kellen Kulbacki then battled to work the count full, but Williams struck him out on the 40th pitch of the inning to exit the first unscathed.
Windy City did not waste their chance in the first. Brandon Anderson and Zach Aakhus each singled to put runners at the corners with one out when Shepherd sent a flyball to right field that Nick Mahin misjudged and allowed to roll to the wall. Anderson and Aakhus each scored and the Bolts led 2-0.
Williams continued to struggle, but got out of a few early jams and eventually settled down. He ended up going seven innings without allowing a run on five hits. He walked four and struck out seven and threw 129 pitches.
Crushers starter Jairo Cuevas settled down as well. After the first, he set down 13 straight batters before Mike Torres doubled to begin the sixth. After Aakhus singled, there were runners on first and third with no outs. Cuevas departed and Travis Risser induced a strikeout, a popout and a groundout to end the inning without allowing a run.
The Crushers' last offensive threat came in the eighth. Kurt Frymier allowed a walk and a single to put two on with no outs and starter Matt Costello was called out of the bullpen to face Andrew Davis. Davis sharply grounded a 2-1 pitch to third base. Nick Kuroczko fielded it, stepped on third and threw to Torres at second who went to Chad Cregar at first, completing the first triple play in ThunderBolts history and eliminating Lake Erie in the eighth.
Wes Alsup allowed a single in the ninth but struck out three to earn his second save of the year. Williams picked up his league lead tying fifth win of the year (5-2). Cuevas was the loser (0-2).
The Bolts go for the sweep Monday morning at 10:05 a.m. in the season's first Splash Day. Windy City sends Matt Jernstad (3-3) to the hill against Lake Erie's Randy Sturgill (1-0). The game can be heard on WXAV 88.3 fm and wxav.com.
Box Score