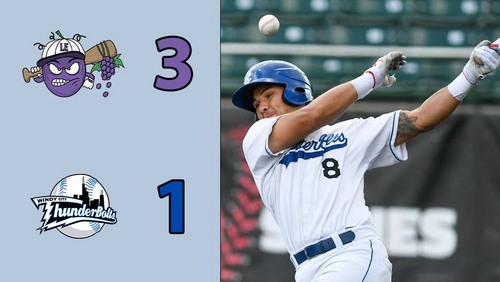 CRESTWOOD, IL – Gunnar Kines held the ThunderBolts to just three hits over seven innings as the Lake Erie Crushers took the rubber match of a three-game set from the Bolts 3-1 at Ozinga Field Sunday afternoon.
Garrett Christman started on the mound for Windy City (23-33) and got off to an exceptional start, retiring the first 11 batters he faced.
The ThunderBolts gave him a run of support in the bottom of the third. Nikola Vasic drew a leadoff walk and stole second. He came in to score on a Jake Boone single. That was Boone's second hit of the game. They were the only two hits for the Bolts until the seventh inning.
Lake Erie (27-30) tied the score in the top of the fifth. With two outs and no one on, Sean Cheely singled and Casey Combs doubled him home. They took their first lead one inning later, again with two outs as Connor Owings singled and scored on a Kenen Irizarry double.
Owings picked up an RBI single in the top of the seventh inning for insurance and the ThunderBolts did not threaten over the final three innings.
Kines (2-1) struck out eight and allowed only the one run, picking up the win for the Crushers. Christman (1-4) pitched his best game in two months, giving up two runs on five hits but he was the tough-luck loser. Alexis Rivero tossed a scoreless ninth for the save.
Sunday's loss wraps up the first half of the schedule for the ThunderBolts. They will send Layne Schnitz-Paxton and Joshuan Sandoval to the All-Star Game in Washington this week. The rest of the team returns to action after the break on Friday as they get their first look in franchise history at the New Jersey Jackals at Yogi Berra Stadium in Little Falls, New Jersey.