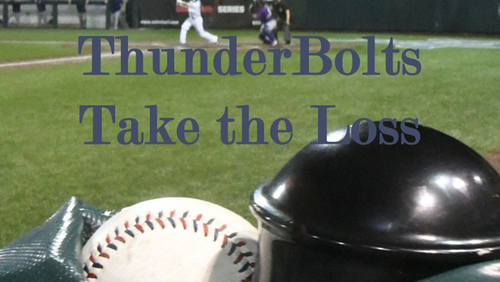 CRESTWOOD, IL – The first six batters of the game reached base for the Lake Erie Crushers and they took a 5-0 lead in the top of the first inning on their way to handing the ThunderBolts a 9-3 loss at Ozinga Field Saturday night.
Steven Kraft started the early rally for Lake Erie (22-18) with a leadoff single. Bryan DeLaRosa doubled him home. Trevor Achenbach also picked up an RBI double and Steve Passatempo hit an RBI single. The other two runs both scored on Jake Fisher balks.
The Crushers added another run in the second inning with a sacrifice fly from Achenbach, making the score 6-0.
The ThunderBolts (14-25) got on the board in the bottom of the second. Peyton Isaacson hit a leadoff single and Rob Weissheier followed with a ten-pitch at bat that ended with his first professional home run, a two-run shot that cut the deficit to four.
That was as close as the Bolts would get. Lake Erie added two more runs in the fourth and one in the fifth. By the end of the fifth inning, the Crushers had 15 hits. They didn't get another the rest of the way, but enough damage had been done.
The ThunderBolts tacked on one more run thanks to a Dan Robinson RBI single in the bottom of the fifth but couldn't add any more.
Aaron Glickstein (3-1) went a season-high five innings, allowing three runs and picked up the win. Fisher (2-4) lasted only one frame and took the loss. Taylor Sugg pitched the final four innings for the save.
The three-game series wraps up on Sunday afternoon at 2:05. Miguel Ausua (3-1, 3.75) starts for the Bolts against the Crushers' Paul Hall, Jr. (2-1, 4.79). It's JULIE Family Day at Ozinga Field and fans will be able to get autographs and play catch on the field after the game. Links to the audio and video broadcasts can be found at wcthunderbolts.com.