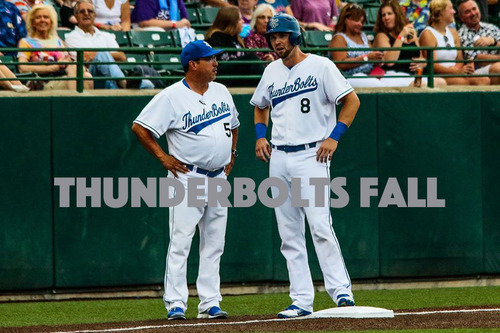 CRESTWOOD, IL – The Schaumburg Boomers tied the ThunderBolts on an eighth-inning home run and took their second straight one-run decision from the Bolts 6-5 in ten innings.
Back-to-back two out hits put the Boomers (34-27) ahead early as Ty Moore's RBI double made it 1-0 in the first inning, but the ThunderBolts (23-38) responded with two in the bottom of the inning. Tim Zier and Axel Johnson singled and Larry Balkwill was hit by a pitch to load the bases. Tyler Straub followed with a sacrifice fly and Blair Beck hit an RBI single.
Two more runs scored for the ThunderBolts in the second inning. They loaded the bases again on a walk and two singles. Johnson came up with a two-run base hit that moved the Bolts ahead 4-1.
Schaumburg answered with another two-out rally in the third. Moore hit a two-run triple and scored on a Kenny Towns single tying the score.
Johnson struck again for Windy City with a leadoff double in the fifth inning. He moved to third on a flyout and scored when Straub hit his second sacrifice fly of the game.
The Bolts maintained their 5-4 lead into the eighth inning, when Zack Weigel hit a leadoff home run that tied it up and forced extra innings.
The Boomers got three straight singles in the top of the tenth, including the game-winner from Darrell Miller, Jr. Despite putting their leadoff man on base in the bottom of the inning, the ThunderBolts did not score.
James Mulry (4-0) pitched a scoreless inning of relief for the win and Jack Andersen (1-4) pitched the tenth for the Bolts to take the loss. Chris Hall picked up his fourth save.
The four-game series continues with a day/night doubleheader on Thursday. Connor Bach (2-1, 4.36) starts game one for the Bolts and Jake Welch (4-3, 3.77) takes the ball in the nightcap. Game one starts at 10:35 and is Big Splash Day III presented by Pirate's Cay Indoor Water Park. Game two is Bud Light Thirsty Thursday as well as White Castle Wrestling Night featuring X-Pac and an hour-long postgame show by Wrestle League.