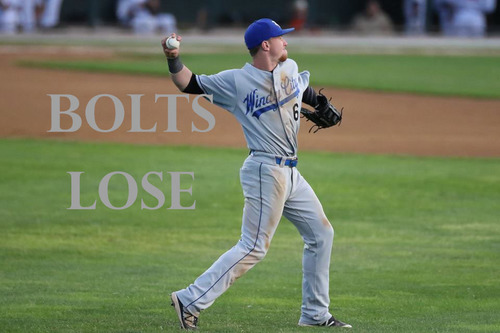 FLORENCE, KY – Axel Johnson hit two home runs for the ThunderBolts but the Florence Freedom scored early and often to bury the Bolts 17-2 at UC Health Stadium Thursday night.
The rout started early for the Freedom (14-16) as they scored five runs, all with two outs, in the first. Jordan Brower hit a solo home run, Jacob Wark hit an RBI double and Craig LePre followed with a three-run homer.
They put another five-spot on the scoreboard in the second inning as Keivan Berges and Wark hit RBI singles and Brower hit a two-run double. They got another run on a fielder's choice.
The ThunderBolts (10-17) could not slow down the Freedom attack as they scored multiple runs in each of the first four innings. Home runs for Xavier Turner and Berges in the third inning made it 13-0 and the lead peaked at 15 with a Turner RBI single and a Brower sacrifice fly in the fourth.
Johnson delivered the first positive sight for the ThunderBolts' offense in the top of the fifth inning with his first homer with the Bolts and he sent another solo shot out to right field in the seventh inning, becoming the second ThunderBolt in as many days with a multi-homer game after Tyler Straub hit three on Wednesday.
Johnson's two homers and Omar Obregon's three singles with the only bright spots for the ThunderBolts as Florence scored two more late runs, putting a cap on their 17-2 victory. Connor Crane hit the Freedom's fifth homer of the night in the seventh inning.
Chuck Weaver (1-1) went seven innings for the win while Jake Welch (3-1) allowed ten runs in 1.1 innings for the loss. Devin Raftery was the only ThunderBolt pitcher not to allow a run. He went two hitless innings.
The ThunderBolts return home to begin a three-game weekend series with the Normal CornBelters on Friday. Zac Westcott (1-4, 3.58) gets the game one start on Pokémon Night at Standard Bank Stadium presented by Georgio's Banquets, Quality Inn & Suites Conference Centre. First pitch is scheduled for 7:05 and fans not in attendance can hear the broadcast through wcthunderbolts.com.