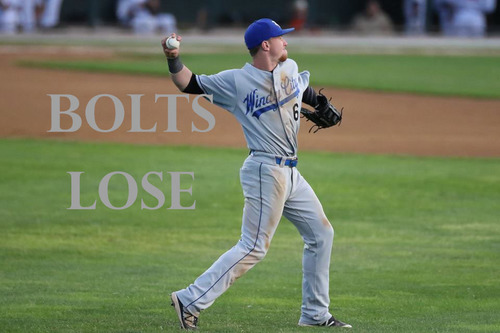 NORMAL, IL – The Normal CornBelters scored eight runs in the fifth and sixth innings to break open a close game and defeat the ThunderBolts 13-7 at The Corn Crib Sunday evening.
The CornBelters (29-31) got their first two runs on an Aaron Dudley home run in the first inning. It was the first of three homers the Belters would hit in the game.
The ThunderBolts (33-26) got single runs in the next two innings to tie the score. Coco Johnson took a bases loaded walk to make it 2-1 and Larry Balkwill and Corey Bass hit doubles in the third to tie it up.
Normal broke through for three two-out runs in the bottom of the third. Santiago Chirino singled and scored on a Dudley double. Nolan Meadows followed with a two-run homer.
Zack Jones came up with the first hit of his pro career in the fourth, a solo home run to bring the Bolts to within two runs but that was as close as they would come the rest of the way.
Ty Morris singled, stole a bag and scored on a Chirino single to start a big fifth inning for Normal. Meadows followed with a two-run home run, his second of the game and third of the series. Five runs scored in the sixth as three straight walks loaded the bases in front of a two-run Chirino single. Meadows scored one on a groundout and Justin Fletcher tripled home the final two runs.
The Bolts' offense got going in the final two innings as Larry Balkwill hit a solo home run in the eighth. Jones and Will Krug each came up with RBI singles to cut the deficit to 13-6. They added one more run in the ninth as Balkwill doubled and Bass singled him in.
Anthony Herrera (2-0) pitched two innings out of the Normal bullpen for the win. TJ Santiago (1-3) allowed seven runs in 4.1 innings and took the loss.
The ThunderBolts take Monday off but continue their nine-game road trip n Tuesday with game one of three at Florence. Drake Robison (1-2, 5.68) will get the start against Florence's Jordan Kraus. First pitch is scheduled for 6:05 and the broadcast can be heard through wcthunderbolts.com.