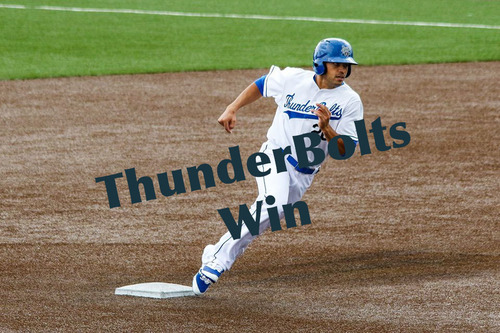 CRESTWOOD, IL – For the second straight day, the Windy City ThunderBolts set season-highs in hits and runs as they completed a three-game sweep of the Gateway Grizzlies with a 9-8 win at Standard Bank Stadium Sunday afternoon.
The Bolts (10-5) jumped out to a big early lead with three runs in the second inning. Blair Beck singled and scored on a Ransom LaLonde sacrifice fly. Later in the inning, Conor Sullivan was hit by a pitch and Andrew Dundon singled in front of a Keenyn Walker RBI base hit. Dundon would score on a throwing error on a Walker stolen base.
A Beck sacrifice fly in the third inning extended the advantage to 4-0 but the ThunderBolts didn't hold it as Gateway (3-12) stormed back with five straight runs.
They sent ten men to the plate in the fourth inning and started their scoring with a two-run double off the bat of Anthony Caronia. Garrett Mattlage followed with an RBI single and Bre'Shon Kimbell evened the score with a double. They took the lead in the fifth on another Caronia RBI hit.
LaLonde struck again in the fifth inning, giving the ThunderBolts the lead for good with a two-run double. Walker walked in the following inning and scored on a wild pitch to make the lead 7-5 and another LaLonde RBI in the seventh, his fourth of the game, put the Bolts up 8-5.
Gateway fought back again with a run-scoring triple for Matt Hearn in the eighth but the Bolts reclaimed a three-run edge on a Kyle Wood RBI single in the bottom of the eighth inning.
The Grizzlies again made it exciting in the ninth, scoring two runs on a Terry McClure single. McClure made it as far as third base but Brian Loconsole shut the door for his sixth save.
Jake Fisher (2-0) allowed five runs in five innings and picked up the win. Adam Eggnatz (0-2) allowed six runs in 4.1 innings and took the loss.
The ThunderBolts head out for a franchise record 13-game road trip starting Monday. They will play a Memorial Day afternoon game against the Lake Erie Crushers with Clay Chapman (0-1, 2.50) getting the game one start against Lake Erie's Steve Hagen (1-0, 4.00). First pitch is scheduled for 2:05 and the game broadcast can be heard on WXAV 88.3 FM and wxav.com.