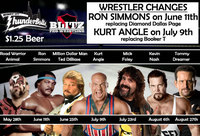 NOTICE: Ron Simmons replaces Diamond Dallas Page on June 11th
and Kurt Angle replaces Booker T on July 9th
If anyone purchased individual tickets for DDP or Booker T a full refund will be granted one week before the day of the event.
We apologize for the inconvenience.
Thursday Nights will once again be Wrestling Night at Standard Bank Stadium, as the ThunderBolts will team up with Pro Wrestling Blitz this season! This year we're pulling out all the stops with a superstar lineup with some of the best wrestlers that have ever laced up the boots.
We kick things off on May 28th with the 3 Time WWE Tag Team Champion, founding member of the Legion of Doom and 2011 Hall of Famer, the Road Warrior Animal.
On June 11th, the 3 Time WWE Tag Team Champion & WWE Hall of Famer Ron Simmons will be here as the Bolts go toe to toe with the Schaumburg Boomers.
Everybody's got a price to be at the ballpark on June 25th, when the 2010 WWE Hall of Famer, the Million Dollar Man Ted DiBiase will be in attendance to see the ThunderBolts take on the Normal Cornbelters.
Looking for a cure to your Independence Day hangover? Still feeling patriotic? On July 9th, the 1996 Atlanta Olympics Gold Medalist, former WWE Champion, and current TNA World Champion Kurt Angle will be at the ballpark!
The Hardcore Legend Mick Foley comes to the south side on July 23rd. The 3 time WWE Champion and 2013 WWE Hall of Famer will be sure to make his presence known when the ThunderBolts face the Frontier Greys.
Two weeks later on August 6th, part of the NWO invades Crestwood, as the 5 time WCW World Heavyweight Champion, 2015 WWE Hall of Fame Inductee, and one of the founders of the New World Order, Kevin Nash will be here when the Bolts battle the Gateway Grizzlies.
Finally, August 27th, Standard Bank Stadium gets EXTREME! The Innovator of Violence, 2 time ECW Champion, 14 time Hardcore Champion Tommy Dreamer will be here when Windy City plays the River City Rascals.
Don't forget, not only will these superstars be in attendance, but after every game, Pro Wrestling Blitz will be putting on an all ages wrestling show behind home plate! As always, domestic drafts will only be $1.25 all game (and wrestling show) long! (Promoted Wrestlers subject to change.)
Single game tickets and group packages are available now! Go to www.wcthunderbolts.com for more information or call the front office at (708)-489-2255. Get your tickets now, because Thursday Nights at Standard Bank Stadium are going to be…TOO SWEET!
Scheduled to appear on the following dates are:
May 28th: 3-time Tag Team Champion & WWE Hall of Famer "Road Warrior" Animal
June 11th: 3-time WWE Tag Team Champion & WWE Hall of Famer Ron Simmons
June 25th: WWE Hall of Famer Million Dollar Man Ted DiBiase
July 9th: Olympic Gold Medalist, fomer WWE Champion, and Current TNA World Champion Kurt Angle
July 23rd: 3-time WWE Champion & WWE Hall of Famer Mick Foley
August 6th: 5-time WCW World Heavyweight Champion & WWE Hall of Fame Inductee Kevin Nash
August 27th: 2-time ECW Champion & 14-time WWE Hardcore Champion Tommy Dreamer