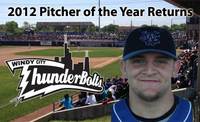 2012 Brian Tollberg Award winner Mike Recchia will be returning to the Windy City ThunderBolts in 2013, the team has announced.
Recchia had been in spring training with the Baltimore Orioles, with whom he had signed on December 17, before rejoining Windy City.
The Crestwood native was named the Frontier League pitcher of the year last season for his 11-3 record and 2.51 ERA. He set league records with 177 strikeouts and five complete game shutouts. His six complete games overall were also a league best as were his 150.1 innings pitched.
Recchia was named a 2012 Baseball America Independent League All-Star in his first year as an independent league pitcher. He had previously pitched in relief for two seasons in the New York Yankees system reaching a high level of Class A Charleston.
He will enter the 2013 season with career numbers of 17 wins and seven losses and a 2.85 ERA. He has 255 strikeouts and 81 walks in 246.1 career innings.
At the same time the ThunderBolts welcome back one franchise legend, they say good-bye to another. Starting pitcher Dustin Williams has been traded to the Lincoln Saltdogs of the American Association for a player to be named. Williams ends his ThunderBolts career with a 29-15 record and 3.82 ERA. The two-time all-star and 2010 rookie of the year is the franchise leader in wins, strikeouts (348) and innings pitched (360.2). He held the single-season strikeout record of 157 for one year.