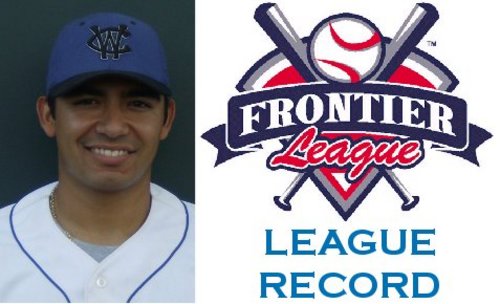 Robert Perry tied a Frontier League record with six hits in a game and J. T. Restko drove home six runs as the Windy City ThunderBolts pounded the Gateway Grizzlies 16-0.
Windy City jumped on the board in the first inning on RBI singles from Robert Perry and Bryan Cook. Four more runs were tacked on in the second on a two-run homer by Gilberto Mejia, a J. T. Restko sac fly and a double from Cook to go up 6-0.
The game would remain that way until the fifth. Grizzlies starter Nathan Melek retired the first two batters of the inning, before Damian Walcott singled. Mejia came up and cranked a homer off the scoreboard in rightfield for his second homer of the contest and an 8-0 Windy City lead. The Bolts scored another run later in the inning on a Restko single.
Two innings later, the hit parade continued as Windy City plated three more on a J. T. Restko homerun to go up 12-0. In the eighth, local product Marcus Spencer recorded his first professional hit as he drilled a homerun to left.
Several longstanding marks were recorded in the contest. Robert Perry became the sixth Frontier League player ever with six hits in a game notching five singles and a double. Restko's six RBI were the most for a ThunderBolts player since Justin Schuda drove in nine on July 26, 2005, also against Gateway. The 16 runs and 25 hits were single game highs for Windy City and the 25 hits were a record allowed in a single game by the Grizzlies.
But it wasn't just the offense. Ross Stout (8-2) picked up the win tossing seven shutout innings allowing seven hits, walking none and striking out seven, taking over the league strikeout record with 86. Adam Dominick struck out the side in the eighth and Ty Pryor pitched a perfect ninth, striking out two in the process. Nathan Melek (4-6) took the loss for the Grizzlies.
The final game at Gateway will see Ricky Meinhold Ross Stout (0-0) on the mound for the ThunderBolts against Mark Brackman (3-7) for the Grizzlies. First pitch is set for 7:05 p.m. with the pregame show beginning at 6:45 on sportsjuice.com. For information or tickets, call 708-489-BALL or visit the team's website at
www.wcthunderbolts.com