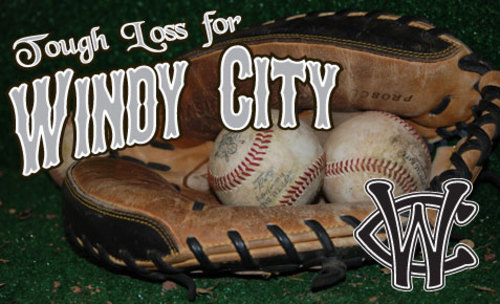 Luke Hetherington hit two homeruns and drove in five while Andrew Werner was strong over five innings in relief as the Evansville Otters downed the Windy City ThunderBolts 14-5.
The Otters got on the board in the top of the first inning on Hetherington's first home of the game, a three-run shot to left to go up 3-0. Windy City would come back and score two of their own in the bottom of the frame on RBI singles from J. T. Restko and Bryan Cook to cut the gap to 3-2. Evansville would score again in the top of the third on an Eric Blackwell double for a 4-2 lead.
The Bolts would tie it in the third inning on a pair of singles from Vinnie Scarduzio and Wilson Matos. After that, however, the bats went silent for Windy City as Andrew Werner shut them down. It was the not the same story in the other dugout as Evansville continued to pour it on scoring five in the fourth, three in the third and getting two more in the sixth on Hetherington's second homer of the game for a 14-4 lead.
Windy City would get a run in the eighth on a Gilberto Mejia triple scoring Matos delivering the final score.
Werner (2-0) got the win pitching five innings in relief allowing four hits and a run, walking one while striking out seven. Brandon Garner (2-3) took the loss for the ThunderBolts.
On a positive note, Wilson Matos had three hits for Windy City and J. T. Restko went 2-for-4 extending his hitting streak to 20 games. Matt Jernstad an Adam Dominick combined to pitch three perfect innings in relief.
The rubber game of the Evansville series comes up on Tuesday morning with a special 11:05 a.m. start time with Big Splash Day 2 at Standard Bank Stadium. Dylan Axelrod (2-1, 2.55) will get the start for the ThunderBolts against Nick Utley (3-4, 4.27) for the Otters. The game will air on 88.3 FM, WXAV with coverage starting at 10:45 a.m. For information or tickets, call 708-489-BALL or visit the team's website at
www.wcthunderbolts.com