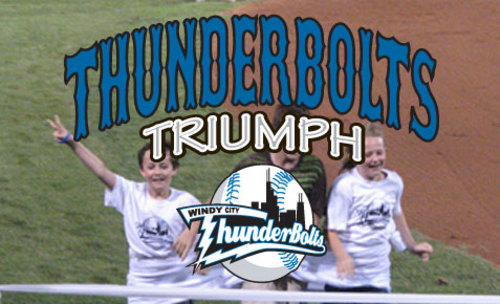 The ThunderBolts came from behind for their seventh straight win Monday night. The Lake Erie Crushers held a lead in the bottom of the ninth, but the Bolts tied it in the ninth and won it in the tenth in dramatic fashion to keep their streak alive.
The Crushers took a second inning lead and held onto it for the majority of the game. They went on top 2-0 in the second inning before Windy City responded with a run in the bottom of the third. Ryne White doubled and was knocked in on a Gilberto Mejia single.
The Crushers extended their lead to 4-1 with a run in the fifth on a Drew Saylor RBI single and a Wayne Bond solo homer in the sixth. This game marked the first time that the Bolts had trailed in a game since Tuesday, but they handled the adversity well. Jeremy Hamilton hit a two-run home run in the bottom of the sixth to cut the Crusher lead to one.
The score remained 4-3 up until the bottom of the ninth. Nick Kuroczko hit a one-out double to get the rally started. Then, after Gilberto Mejia popped out, Brandon Anderson walked and Ryan Basham came up with some two-out heroics. Basham singled to right, scoring Kuroczko to tie the game and advancing Anderson to third. But Hamilton popped out to send the game to extras.
After Nick Hall pitched a scoreless tenth, J.J. Pacella came out for his second inning of work. With no help coming for Pacella out of a worn out bullpen, the Lake Erie closer walked the bases loaded with two outs. Mejia came up to bat and watched the first five pitches of the at-bat as Pacella worked a full count. On 3-2, Pacella once again missed his spot and Pete Paris came in to score the winning run on ball four. It was the first come-from-behind win for the ThunderBolts in the eighth inning or later this season. Hall improved to 4-2 while Pacella fell to 1-2. The Bolts moved .5 games ahead of the Crushers with the win.
Windy City and Lake Erie finish their series on Tuesday morning for Big Splash Day II. Andrew Werner (5-1) goes to the mound for Windy City against Lake Erie's Alberto Rolon (2-1). Game time is 11:05 a.m. That contest can be heard on WXAV 88.3 fm.