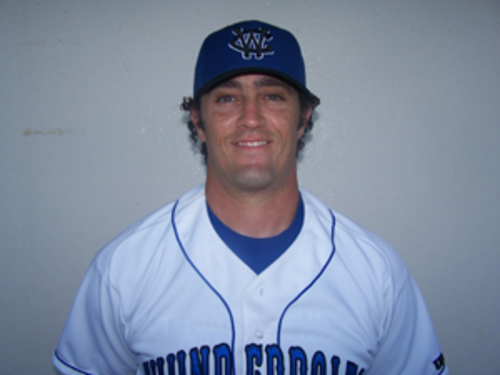 The 2007 Frontier League Champion Windy City ThunderBolts professional baseball team has announced the resignation of their hitting coach, Ronnie Deck. Deck is leaving the ThunderBolts to accept a position as the bullpen catcher for the Baltimore Orioles. A former catcher for the Richmond Roosters, he will be one of three former Frontier League players serving as Major League bullpen coaches in 2008, joining the Detroit Tigers' Scott Pickens (Chillicothe Paints and Florence Freedom) and the San Diego Padres' Ben Risinger (Springfield Capitals).
Under Deck's guidance, the ThunderBolts set team records for team batting average (.279), runs scored (566), and stolen bases (160) while finishing with the franchise's first winning record in their nine seasons of existence. Deck help guide Windy City to the Central Division title and Frontier League championship. Four of Deck's hitters, shortstop Wes Long, first baseman Philip Hawke, outfielder Michael Coles, and third baseman Josh Horn were voted to the Frontier League All-Star Game this season.
Deck made his professional coaching debut with the ThunderBolts this season following a seven-season playing career, including two seasons in the Tampa Bay Devil Rays organization. He advanced as high as the double-A level with the Devil Rays. A graduate of Oklahoma Christian University, Deck was named a GTE Academic All-American as a catcher.
Deck also served as Assistant Head Coach and Recruiting Coordinator for Oglethorpe University in 2006 and Assistant Baseball Coach and Sports Information Director at Northeastern Junior College in Sterling, Colorado, in 2007.
"It is a tremendous opportunity for Ronnie Deck. He has paid his dues in the game at just about every level, and is now going to see the rewards of his hard work," commented former ThunderBolts field manager Andy Haines. "Being able to get in the big leagues in any capacity is a rare opportunity. As much as I know he is going to enjoy being in big league stadiums every night, I know how much he'll miss the one and only Standard Bank Stadium. He loved being a Thunderbolt and was an asset for our players and myself"
"My time with the Windy City was one of the highlights of my career, and I'll be a ThunderBolts fan for life because of my experience there," said Deck. "The relationships I built in the summer of 2007 were instrumental in my landing the job with Baltimore."