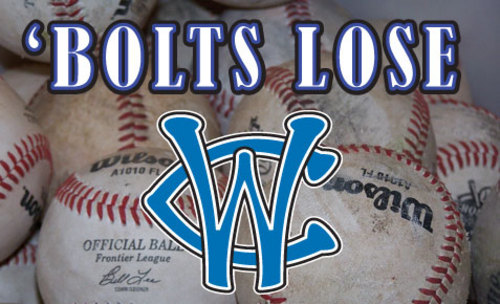 CRESTWOOD, IL – Juan Avila hit three home runs Wednesday morning as the Lake Erie Crushers hung 16 runs on the ThunderBolts at Standard Bank Stadium. The 16-1 loss snapped the ThunderBolts' eight-game win streak.
Avila started the scoring in the second inning with his first home run of the day, a solo shot to make it 1-0.
The ThunderBolts (9-2) quickly responded as Reggie Lawson singed to lead off the bottom of the second. He stole second base and scored on a wild pitch to tie the score.
The Crushers (7-2), though, blew it open with a seven-run third. William Beckwith hit a two-run double in the rally and Brendan Costantino hit a two-run homer. Lake Erie sent ten men to the plate in the inning and knocked out six hits.
They added a run in the fourth on a Jose Barraza RBI double to make it a 9-1 game.
The Bolts' last good scoring chance came in the bottom of the fourth inning, when they loaded the bases with two outs, but Fernando Gallegos retired Taylor Smart to end the threat. Gallegos gave up his first run of the year in the game, but did not allow anything else over his seven innings.
Lake Erie loaded the bases in the sixth before Beckwith was walked to score a run. Avila followed with his second homer, a grand slam, putting the Crushers ahead 14-1.
An Avila solo homer in the eighth and a Carlos Avila sacrifice fly in the ninth wrapped up the scoring.
Gallegos (2-0) picked up the win and Chris Chigas (1-1) gave up seven runs in 2.2 innings to take the loss.
The rubber match between the ThunderBolts and Crushers will be played on Thursday. School Day IV will be marked by another 10:35 a.m. start time at Standard Bank Stadium. Brady Muller (1-1, 3.86) will get the start for the ThunderBolts against Lake Erie's Steve Hagen (0-0, 1.58). The broadcast can be heard on WXAV 88.3 FM and wxav.com.